Our lead story - It's Official: Get an award in Kosherfest's New Product Competition and watch sales soar…Kosher is in big at East European heritage sites. Read our exclusive report…Airline competition for flights to and from Israel is heating up as United announces new kosher fare and American is set to join – further squeezing El Al, Israel's national carrier…Famed chef and Baroness at a first-of-its-kind dinner at a non-kosher (koshered) restaurant…Throngs at Royal Wine's 14th Annual Kosher Food and Wine Experience…Kashrus agencies fill a need for information, but one major agency gets sued just for doing that…Merchandising key for upcoming Purim holiday…In My Sixth Sense I issue a warning that not all operators for Passover programs are alike. Buyers beware!... Eda Kram in her New Product Showcase covers seasoned pistachio kernels.
SPECIAL PASSOVER NEXT ISSUE NOTICE
Kosher Today will publish its annual Passover New Products issue on March 3rd. All entries (
[email protected]
) of products introduced for the first time this Passover 2020 are due by February 20th. The wine issue will be published on March 17th with the deadline for submission being March 5th.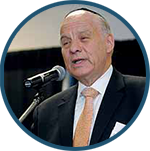 Menachem LubinskyEditor-in-Chief