A record 115,000 will take part in Passover programs this year, a Kosher Today exclusive survey shows…USMCA will have little impact on the kosher food industry, experts say…Vertical Farming is the latest frontier for kosher and may be coming to a supermarket near you…Applicants for mashgichim soar and so does the training by kashrus agencies…Kol Save serves a need to a very loyal constituency. Read our story…Manischewitz, now owned by Kayco, is set to roll out many new products for Passover…The kosher community is mourning the passing of Rabbi Yosef Grossman…In My Sixth Sense, I look at the growing creativity by home cooks…New Product Showcase… Eda Kram in her New Product Showcase covers New Fruit Reels from Paskesz.
SPECIAL PASSOVER NEXT ISSUE NOTICE
Kosher Today will publish its annual Passover New Products issue on March 3rd. All entries (
[email protected]
) of products introduced for the first time this Passover 2020 are due by February 20th. The wine issue will be published on March 17th with the deadline for submission being March 5th.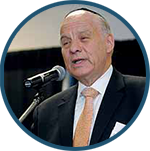 Menachem LubinskyEditor-in-Chief