We lead with the story of how large kosher supermarkets are increasing their footprints. Read our exclusive story…Rosh Hashanah is emerging as a major gift-giving time of the year…Kosher travel has resumed big time with the exception of Israel which is still dealing with a surge in Delta variants…Dried dates is big business and Devik International is hoping to make Kosherfest 2021 an important event for sales…ShopRite and Walmart let the word out that their Monticello stores will be kosher year-round instead of just the summers…The fact that there are any new kosher products is a miracle, sources say, but apparently there will be plenty to choose from at the Kosherfest New Product Competition on October 20th…There are many new wines in time for Rosh Hashanah and we have some recommendations from an expert…Reports are that there are crowded aisles for Rosh Hashanah in all major kosher supermarkets…In My Sixth Sense, I discover a new recent prayer by kosher restaurants…Eda Kram in her New Product Showcase covers a New Mediterranean Snack from Tulia.
Best wishes for a healthy, happy, and prosperous New Year of 5782
PLEASE NOTE:
Due to the upcoming Jewish holidays, the next issue of Kosher Today will be published on October 5th.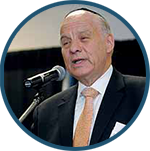 Menachem LubinskyEditor-in-Chief