Clearly, we are getting closer to Passover, now less than three months away. Read the first of several stories we will be featuring on Passover programs worldwide…Florida has more than the Super Bowl to contend with. It is the beginning of "Yeshiva Week!" …The BBC covered Kosherfest even as the UK prepares to host its own kosher food show…Bingo prepares to open in Monsey as Evergreen reveals plans for a store in Ramapo…Are kosher consumers slow to adopt the Impossible Burger? Read our story…The kosher landscape is changing in Houston...Yet another gift-giving season looms on the Jewish calendar, Tuv B'shvat…In My Sixth Sense, I reveal how much I learned standing online at an upscale kosher restaurant…Eda Kram in her New Product Showcase features new organic salad dressings.
SPECIAL PASSOVER ISSUE NOTICE
Kosher Today will publish its annual Passover New Products issue on February 18th. All entries (
[email protected]
) of products introduced for the first time this Passover 2020 are due by February 7th. The wine issue will be published on March 3rd with the deadline for submission being February 21st.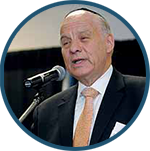 Menachem LubinskyEditor-in-Chief